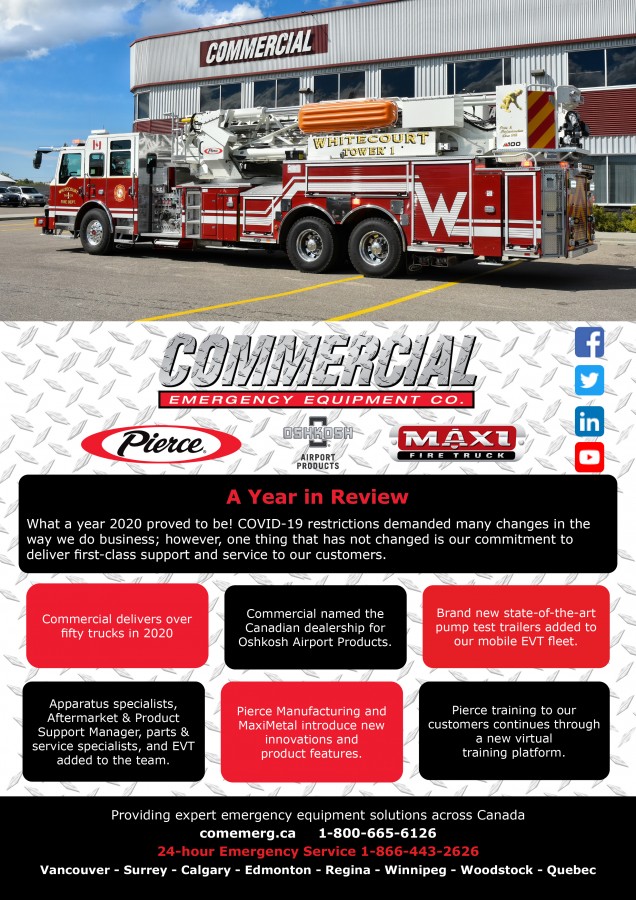 What a year 2020 proved to be!  COVID-19 restrictions demanded many changes in the way we do business; however, one thing that has not changed is our commitment to deliver first-class support and service to our customers.
Commercial Emergency Equipment delivered more than 50 trucks in 2020 to municipalities across Western Canada, the territories, and Ontario.  Our team grew and shifted with the addition of team members and promotions to others.
Commercial was named the Canadian dealer for Oshkosh Airport Products in April 2020.  We welcomed Jamie Zimmerman as Sales Manager of Airport Products to our team in September.  Jamie will support Canadian airports, focusing on their requirements for ARFF and snow removal equipment.
Pierce Manufacturing Inc. went virtual quickly, to address the COVID-19 travel restrictions.  Our customers were able to "visit" the factory virtually for final inspections and training continues through a new virtual training platform.
Brand new state-of-the-art pump test trailers were added to our mobile EVT fleet.  Our certified EVT's are able to perform tests, service, and repair of all makes, models, and sizes of fire apparatus and equipment in-house or on-site.
Pierce introduced the Idle Reduction Technology.  The City of Winnipeg was the first Canadian city to order Pierce fire apparatus with the technology.  The IRT system uses lithium-ion battery technology, resulting in lower chassis emissions, less frequent service intervals, lower cost of ownership, less DPF buildup, and reduced greenhouse gases.
MaxiMetal added 10,000 sq. ft to their operations in Saint-George, Quebec.  The expansions will result in increased capacity and reduced lead times for our customers.  MaxiMetal also introduced 3 trademark products:  The TITAN Optimized Equipment System, the PARAGON Optimized Pumphouse Configuration, and the AIRGO SCBA Deployment System.
We look forward to what is to come in 2021, we are hoping to be able to connect in-person with more of our customers when COVID restrictions begin to be lifted.  Please visit our booth at your Provincial Fire Chief's conference; event dates will be posted to the Events page of our website.
---