Apparatus Service and Maintenance
SERVICE AND MAINTENANCE FOR EMERGENCY VEHICLES
Commercial Emergency Equipment is Canada's largest service provider for emergency apparatus. We facilitate maintenance and repairs, inspections, and training through our nationwide branch network. With over a century of combined industry experience, our certified EVTs and Pierce Master Technicians know the intricacies of every type of fire apparatus and strive to exceed your service expectations on all makes and models.
Preventative maintenance programs.

Highest number of emergency vehicle technicians in Canada.

CWB certified.

Certifications in Canadian Motor Vehicle safety standards.

COMPREHENSIVE CARE AND APPARATUS SUPPORT
Emergency Vehicle Repair and Service
With an extensive network of service centres and stocked field service trucks across Canada, Commercial Emergency Equipment offers unparalleled service, inspections, and testing, when and where it is needed. Immediate access to a certified EVT is available through our 24-hour Emergency Service Hotline. Our goal is to keep your fleet of emergency apparatus operational and in service with the fastest turn-around possible.
Tests, inspections, and services provided by our certified EVTs include:
24-hour technical support
Certified EVTs at all locations
Fleet of stocked field service trucks
Fire pump and plumbing testing, maintenance, repair, and overhaul
Foam systems calibration and maintenance
NFPA and OSHA approved aerial apparatus inspections
200 pt. fire apparatus inspection and maintenance
80 pt. pre-delivery inspection
65 pt. aerial inspection, maintenance, and repair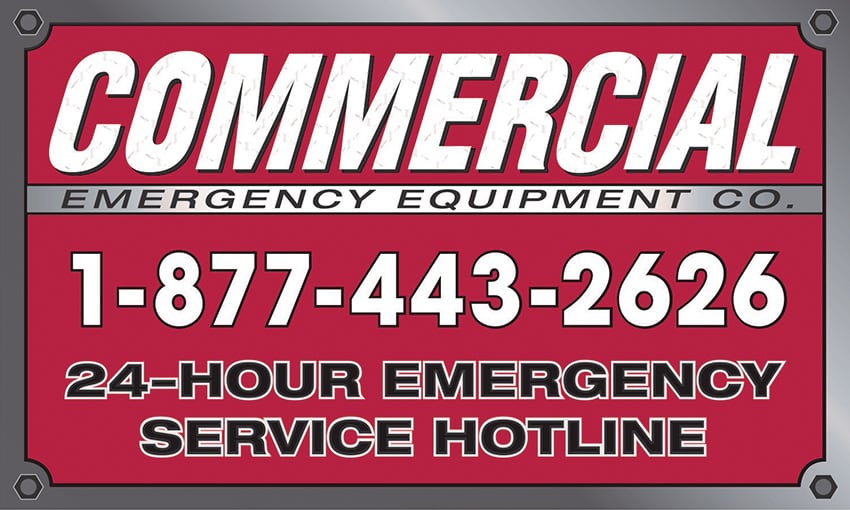 UNMATCHED SERVICE AND SUPPORT ACROSS CANADA
Apparatus Service Provider
Our emergency vehicle technicians remain at the forefront of the fire apparatus service industry with 100+ years of combined experience and a strong team of support staff. Ongoing training with manufacturers ensures our team is up to date on the latest technology and practices. We are one of the very few in the industry with CMVSS certification. We offer NFPA and OSHA approved inspections and are also Canadian Welding Bureau (CWB) certified.
Our service team is committed to supporting our customers with best-in-class service. From pre-delivery inspection to preventative maintenance programs and timely repairs, we endeavour to minimize downtime of your fire apparatus.