Electric & Hybrid Apparatus
Commercial Emergency Equipment is leading Canada's charge towards electrification of emergency apparatus. With four field-proven apparatus electrification solutions, no other fire apparatus supplier in the country has the experience and scope of solutions that Commercial does.
Zero emissions. Zero Compromise.
PIERCE® VOLTERRA™ PLATFORM OF ELECTRIC VEHICLES
The Pierce Enforcer Volterra Electric Pumper utilizes a parallel-electric drivetrain which allows zero-emissions operation when powered by the integrated onboard batteries and can be coupled to the internal combustion engine to provide continuous and uninterrupted power to the pumping system or drive system for extended operations.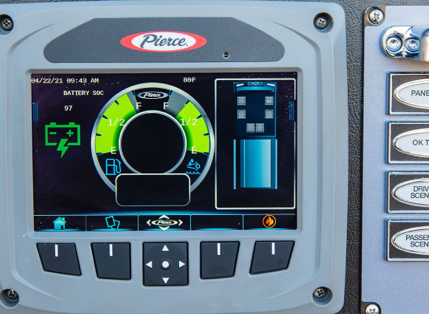 DRIVING
An Oshkosh patented parallel-electric drivetrain featuring an electro-mechanical infinitely variable transmission (EMIVT) allows zero-emissions operation when powered by the integrated onboard batteries. The chassis will operate under electric power in all normal operational situations and will leverage the internal combustion engine for backup power in extended emergency operations.
PUMPING
Standardized Pierce pumping configurations, up to 2000gpm are driven through the electric driveline and are powered by either the integrated onboard batteries or the internal combustion engine. The driveline allows for zero emissions during quick attack responses, and can transition seamlessly to internal combustion power for extended pumping operations.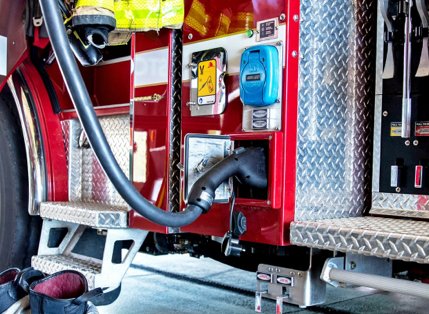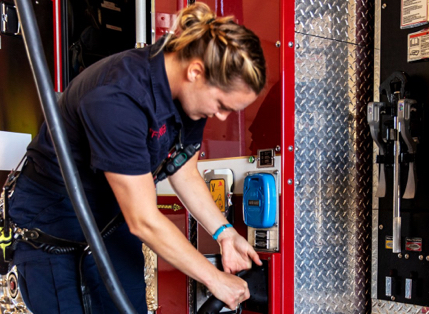 CHARGING
A fire-station-based, all-encompassing vehicle charging infrastructure provides operational readiness. Charging solutions are tailored to provide an unobtrusive installation for any station. Established energy experts offer simple, fast charging solutions capable of full vehicle recharge in less than 90 minutes, as well as continued support throughout the life of the vehicle.
Consult with Commercial Emergency Equipment on charging and infrastructure requirements to prepare your department for EV fire Apparatus.
Visit Pierce Manufacturing for more information on the Enforcer Volterra Electric Pumper
Visit
A complete airport rescue and firefighting platform
OSHKOSH® STRIKER® VOLTERRA™ PERFORMANCE HYBRID
The Oshkosh Striker Volterra performance hybrid is a complete Airport Rescue and Firefighting platform, available in 4X4 and 6X6 configurations. The hybrid-electric drivetrain is capable of faster, zero-emission station entry and exit, up to one-hour of zero-emissions standby, and is fully tested and compliant to NFPA 414 and ICAO standards.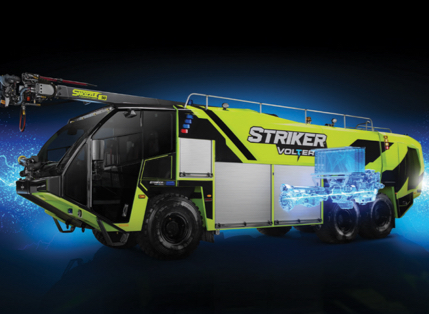 EV DRIVING
EV driving activates on startup without any user input when the Striker Volterra vehicle exits the fire station. On re-entry, the vehicle can be seamlessly shifted to EV mode once more. This mode utilizes only the on-board batteries to power the drivetrain to lowering the fire fighter's exposure to exhaust emissions and noise.
STANDBY
During standby mode, the vehicle operates at zero emissions utilizing on-board batteries. Providing comfort and power to required systems. The engine starts as needed to maintain battery readiness.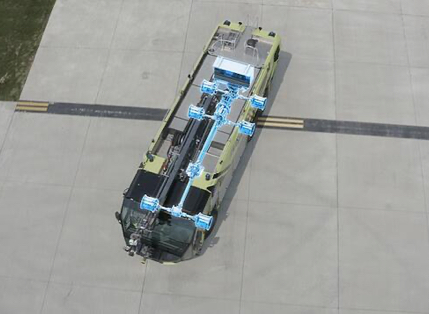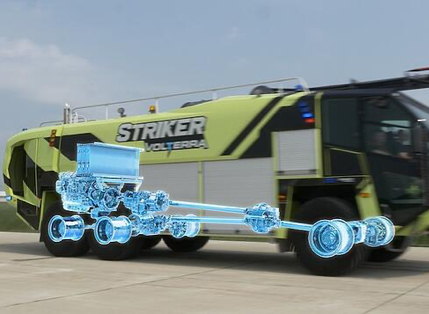 HYBRID DRIVING
The vehicle automatically shifts to Hybrid Mode as needed for acceleration, and to maintain the batteries for maximum readiness. The internal combustion engine and batteries work together to maximize performance and improve response time, while reducing emissions. The Striker Volterra 6x6 ARFF can go 0-50 mph (0-80 km/h) in 25 seconds, improving acceleration by 28% when fully loaded.
REGENERATIVE BRAKING
Regenerative braking increases efficiency and reduces brake wear. The vehicles kinetic energy is converted to electricity, recharging the batteries, and reducing brake temperature and wear.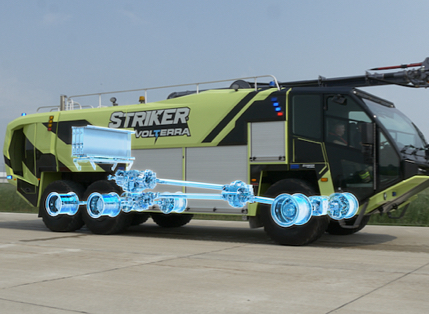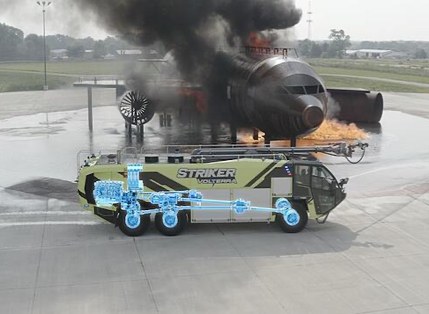 PUMP AND ROLL
Pump and roll utilizes both the engine and the battery. The advanced powertrain continuously powers the pump while the driver's input is smoothly applied to the vehicle's motion just like every Striker ARFF.
STATIONARY PUMPING
Stationary pumping utilizes the internal combustion engine to efficiently power the water pump. The Command Zone Control System optimizes engine RPM based on water pump requirements to reduce emissions and noise.
Visit Oshkosh Airport Products to learn more about the Striker Volterra Platform
Visit
Saving tons of emissions, fuel, and maintenance. Canada's most popular green energy option; there are dozens of Pierce IRT units already in service in Canada.
PIERCE IDLE REDUCTION TECHNOLOGY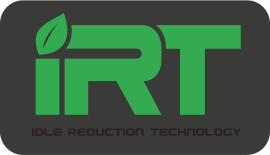 Pierce Idle Reduction Technology pairs high-performance lithium-ion batteries with automatic diesel engine controls to power NFPA 1901 required devices, user-defined mission critical on-scene loads, and HVAC climate control with the main chassis engine shut down. Pierce IRT provides one hour of zero-emissions run time at 150 amps and is available on new apparatus as well as aftermarket for most Pierce trucks.
Lithium-ion batteries for performance, lead-acid batteries for vehicle startup, Pierce Command Zone Multiplexed Electrical System for control.
Touchscreen Display - Command Zone required to activate or deactivate system.
Battery Charging via chassis while operating or dedicated 30-amp power drop at the station.
Safety Interlocks to prevent unwanted activation.
Numerous benefits and efficiencies including less engine wear, lower fuel and DEF usage, reduced soot buildup from idling, less frequent service intervals, lower total cost of ownership.
By the start 2022, there were already 20 Pierce IRT apparatus in service just in Canada, saving tons of emissions, fuel, and maintenance.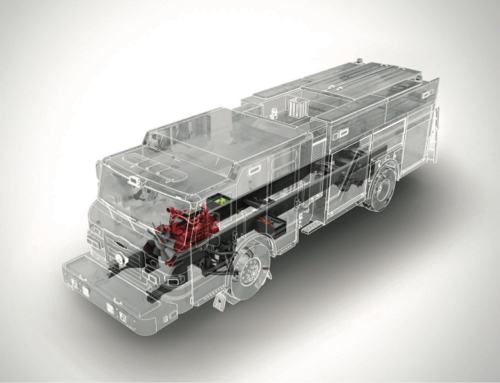 Learn more about Pierce Idle Reduction Technology on the Pierce Website
Visit
Canadian master distributor of a breakthrough solution. Canada's most popular electrification solutions for aerial utility and truck equipment, in service with some of the country's largest utility providers.
VIATEC SmartPTO
Commercial is a Canadian Master Distributor for Viatec. Viatec's Smart PTO is the world's first fully electric, universal power-take-off unit that enables zero-emission worksites for work and utility trucks. This breakthrough solution powers all hydraulic functions of a work or utility truck including outriggers, aerial booms, and digger derricks while also providing power for auxiliary chassis accessories like lighting and optional in-cab HVAC without a running engine. A standard configuration is sized to supply power for a full workday, but higher capacity batteries are available, and by nature of its fully parallel system design, operators can continue working in the field by seamlessly reverting to conventional power- take-off for heavy-duty cycle days, or if the complete battery charge for SmartPTO is utilized.
The SmartPTO system can be easily fitted to most new and in-service conventional utility and work trucks with simple hydraulic and electrical connections. Fully electric operation brings about many benefits in the form of reductions to engine wear and maintenance, fuel consumption, emissions, noise, jobsite risk, and operating cost. The system includes a touch screen that displays the control interface with settings, battery charge, system statistics like fuel saved, run time, and notifications such as temperature warnings. Available options include battery capacity upgrades, remote telematics, and level II fast-charging.
SmartPTO have been in the field in Canada since 2020 and the operators have overwhelming positive feedback. Units are available for demonstration and are stocked in Canada. Installation or retrofit can be done in a couple days.