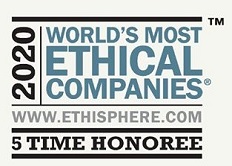 Oshkosh Corporation has been named one of the World's Most Ethical Company for the fifth consecutive year by Ethisphere, a global leader in defining and advancing the standards of ethical business practices. Oshkosh has been recognized for five consecutive years and is one of only eight honorees in the industrial manufacturing category.
Oshkosh Corporation is the parent company of Pierce Manufacturing Inc. and Oshkosh Airport Products.  Founded in  1917, Oshkosh is driven by a breakthrough four-wheel-drive system that is the foundation of each of their product and technological designs. Today, Oshkosh is comprised of a team of more than 15,000 members; Commercial Emergency Equipment is proud to represent Pierce Manufacturing in Canada.
See more information about this prestigious award here.
---