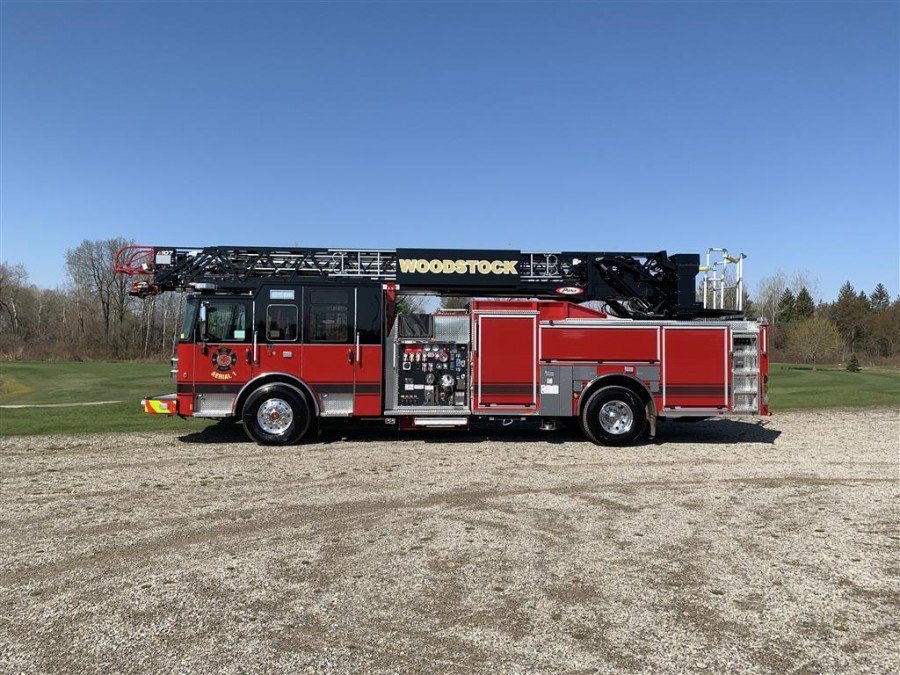 The City of Woodstock, Ontario put its brand new Pierce 107' Ascendant aerial into service on Friday, May 14th, replacing Woodstock's Platform 1, which was damaged at the Nellis St. Fairgounds fire.
"When developing the RFP for a new aerial, we needed a unit that can operate effectively as either a sole apparatus response or as part of a multi-apparatus response, to address the changing needs of our community," said Fire Chief Jeff Slager. "I'm extremely pleased with our new Aerial 1 being able to fit both of those roles."
The 107' Ascendant aerial sits on a Pierce Enforcer single axle chassis and is powered by a Cummins L9, 450 hp engine. Key features include a 22,800 lb. Oshkosh TAK-4 independent front suspension (IFT) and the Pierce HuskyTM 3 foam system.
The Oshkosh TAK-4 IFT provides improved ride quality & control, shortened stopping distances, increased load carrying capacity, advanced braking performance, and maximized maneuverability.
The HuskyTM 3 foam system is easy to operate with just a one-button operation required to create foam. The 3 gpm foam pump provides capacity to handle structure fires, wildland fires, automotive fires, and small class B spills.
Additional key features include a 500 USG water tank, 20 USG foam tank, Waterous 2,000 gpm pump, Mechanical Q siren, and three crosslays.
"As the City of Woodstock continues to grow in both population and economic development, it is critical for our Fire Service to have the needed tools to meet this growth" said Deputy Fire Chief Trevor Shea. "Aerial 1 provides for the needs of our Department today and for where our needs will be in the future."
Thank you to Fire Chief Slager and the City of Woodstock for trusting Commercial Emergency Equipment to provide you with your new Pierce fire apparatus.
---