As fire departments think about the components required on a custom fire truck, one anticipated decision involves choosing between hinged or roll-up doors for fire truck compartments.
The choice of either hinged and roll-up doors depends on the type of missions a fire department responds to, and the required compartmentation's functional and operational needs.
Part of this decision often includes a review of the following questions:
What is the difference between hinged and roll-up doors?
What are the construction differences?
What safety and operational considerations are important?
What additional door features should be considered?
What is the look or appearance desired?
Learn construction, safety and operational details, and common questions regarding hinged and roll-up doors below.
What is a Hinged Door?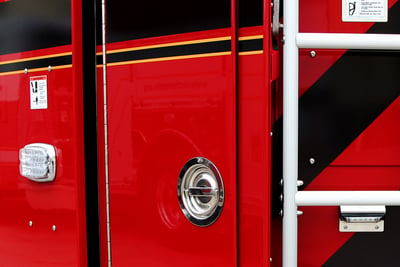 A hinged door on a fire truck compartment is a flat, double pan door that opens with a hinge secured on either the vertical or horizontal side of the door as a point of connection to the apparatus or chassis body.
Hinged doors may also be referred to as lap doors, double pan doors or traditional compartment doors.
Hinged doors can be installed on both the driver and officer side of the apparatus, on the rear of the fire truck and covering compartments on top of the apparatus. Hinged doors cover all compartments that have been designed to maximize storage for the unique needs of a fire department.
Hinged Door Construction
Hinged doors are sized and constructed to match a fire department's compartment specifications. Manufactured by Pierce to match the body construction, hinged doors can be made using aluminum, stainless steel or galvanneal, and offer solid protection with a clean, smooth finish.
Each hinged door includes:
Double pan sheet metal construction to provide two pans of prefabricated metal on the exterior and interior surface.
Reinforcement C-sections between the inner and outer panels to provide additional strength.
Nearly 2.0 inches of door thickness to improve impact resistance and compartment protection.
Door locking mechanisms that are fully enclosed within the door panels to prevent fouling of the lock in the event equipment inside shifts into the lock area.
Painted exterior and interior surfaces for additional protection.
Hinged doors are opened using a rotating D-ring mechanism, which can be operated with a gloved hand. Pneumatic cylinders or a positive door holder bracket, with a spring-loaded sliding tube, keeps the door in the open position when firefighters need to remove gear or work at an emergency scene.
Another feature is the doors have a closed cell rubber gasket around the surface that laps onto the body. A second heavy-duty automotive rubber molding with a hollow core is installed on the door framing that seals onto the interior pan, to ensure a weather resisting compartment.
Benefits of Choosing a Hinged Door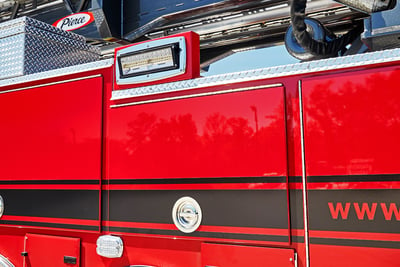 There are many benefits of choosing a hinged door for a new fire truck.
Smooth, Clean Look. Many fire departments select hinged doors for the smooth, clean appearance and because they offer a more traditional look for fire apparatus. In many instances, fire departments are accustomed to hinged panel doors because that is what has been used historically and choose to maintain the same look and feel with new apparatus selection.
Easy Operation and Functionality. With a hinge construction, fire departments have little to worry about in regards to operational efficiencies, because of the intuitive construction and ease of operation.
Minimal Maintenance. The simple, clean construction of a hinged door with lock-tight screws means maintenance is minimal. Washing the doors regularly with warm, soapy water and lubricating the hinges to maintain smooth open and close functionality are the only maintenance required.
Minor Equipment Interior Mounts. With a smooth interior door finish, a fire department can opt to include minor equipment attachments on door interiors. An axe, bolt cutter, rope, cord or other lightweight tools can be mounted to the interior door panel to optimize storage space.
Maximum Storage Space. The ability to use the full compartment, floor to ceiling.
Operator and Vehicle Safety
Hinged doors offer some unique operator and safety benefits, including:
Hinged doors open up or out and require operator understanding of the amount of space required to open and move around the door. As part of strategic response planning, firefighters must be cognizant of their compartment door type and place the truck appropriately on-scene.
Off-road, woodland and rough terrain are not a problem for hinged doors, with sturdy hinges and closure systems to appropriately protect the contents inside.
Hinged doors that lift up with a horizontal hinge have been used to provide shade for firefighters in warm climates. The ability to quickly erect a shading solution at an emergency scene is an added benefit of a hinged door.
Hinged door construction offers many benefits and added features that make it a great option for fire departments seeking a more traditional, clean and sleek appearance. How do hinged doors compare to roll-up doors? Keep reading to learn more.
What is a Roll-Up Door?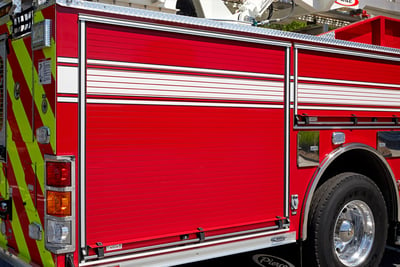 A roll-up fire truck door is constructed of a series of double-sided extrusions that are sealed together to open vertically and gather in a roll at the top of the compartment out of sight.
Roll-up doors are sometimes referred to as shutter-style doors.
Roll-up doors can be used on the driver and officer side of the fire truck, as well as the rear of the vehicle. Roll-up doors offer quick and efficient access to equipment at an emergency scene.
Roll-Up Door Construction
Roll-up doors are constructed of aluminum extrusions that are joined together to create a solid, yet flexible protective door. Each door rolls up on a spring-loaded roller take-up spool and disappears into the header at the top of the compartment opening.
The extrusions run through tracks on either side of the compartment opening and are sealed from top to bottom to prevent water, dirt and debris from getting stuck in the tracks.
Roll-up doors can include a lift-bar with contoured bottom flange cut-outs to allow for easy opening and closing even with gloved hands.
Some additional features of roll-up doors include:
A smooth interior wall that provides protection against equipment hang-ups.
Individual extrusions that can be removed and replaced easily.
Highly durable seals with resistance to UV light and designed to perform in both extreme cold and hot temperatures.
Benefits of Choosing a Roll-Up Door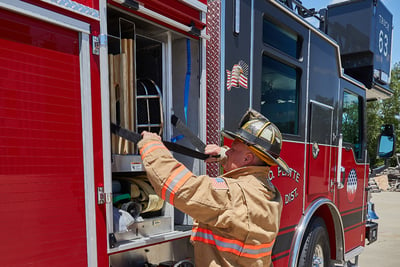 There are many benefits to choosing a roll-up fire truck door.
Modern Look. The more modern look of sleek roll-up doors is something many fire departments are drawn to. Doors can be painted to match the apparatus or can include custom designs.
Fast Access to Equipment. Firefighters can quickly and easily open roll-up doors at an emergency scene, knowing they spool up in the header and not in the way when accessing equipment.
Full Sight Lines at an Emergency. Roll-up doors are rolled up at the top of the compartment opening, which means there are no visual barriers around the perimeter of the apparatus.
Bracket-Free Interiors. Some fire departments prefer the bracket-free interior that comes with roll-up doors. The compartment interior is clear, and equipment can be accessed easily.
Operator and Vehicle Safety
Roll-up doors offer some unique operator and safety benefits.
Roll-up doors allow compartments to be opened in parking bays to air-out or dry gear between calls. There is never a concern about hitting a door upon exit or damaging the firehouse walls.
Strategic apparatus placement at the fire scene can be more forgiving. The doors roll-up into the header and are easy to access and open in even the tightest rescue scenarios. This makes truck roll-up doors particularly suited to perform in busy highway rescue operations and the narrow roadways of urban areas.
The area around the truck can become crowded at an emergency scene. With rollup doors, firefighters maintain lines of vision around the apparatus and don't have to move around any barriers to access equipment or gear.
Additional Compartment and Door Safety Features
Additional Fire Truck Door Features
Whether a fire department decides to choose a hinged or roll-up door, there are several additional features that Pierce Manufacturing is proud to offer customers as they build a custom apparatus, including:
Manual and electric locks
Keyed locks
Door ajar switches
Door pull-straps
As you determine the right type of door for the missions of your department, reach out to one of our trusted dealers with further questions.
Which type of compartment door does your fleet use? Why do you love it?
Shared from Pierce Manufacturing Inc.