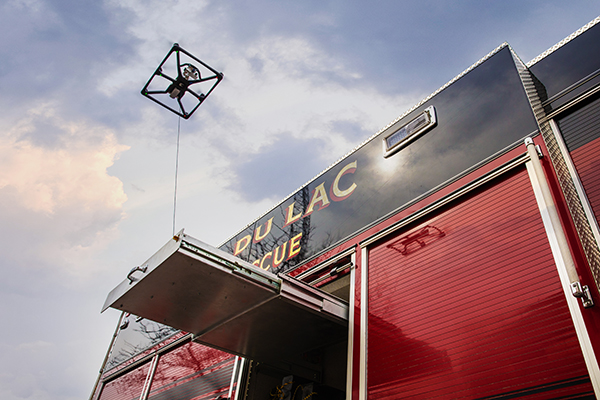 Once again, Pierce Manufacturing Inc. is leading the way with new innovations.  Introduced at FDIC 2019, the Pierce Situational Awareness System by Fotokite delivers on the spot surveillance from a maximum height of 150′ (from the base unit).
Live stream and document mission-critical aerial views of the scene with total operational freedom. The Pierce Situational Awareness System by Fotokite tethers to and integrates with the fire apparatus – so there's no need for a piloting license* or certificate of authorization and no battery life limitations to work around.
With fully autonomous flight, this system does not take away valuable team resources to pilot during an operation and can be taught to any member of a team within a day of training. Control wirelessly inside/outside the truck via tablet or PC. A single button-push rapidly deploys the unit while a backup battery and controlled descent features protect the system from ground power interruptions. Leverage the video stream for thermal surveillance, live transmission to in-transit responders, scene documentation, and critical training.
Commercial Emergency Equipment is scheduling hands-on demonstrations of the Pierce Situation Awareness System by Fotokite.  Call 1-800-665-6126 to book your demonstration.
---